20 years of Participant Inc. Yes yes and always yes to Lia Gangitano and her miraculous Participant Inc as it celebrates 20 years in lower Manhattan with a new location and more brilliance for the next 20 years and beyond. Be sure to buy your tickets to the big Benefit fundraiser. You know what you must do, and you have the power to do it!

Participant Benefit Performance
Monday, June 26, 2023
Legendary SOB's
204 Varick Street, New York City
Cocktail Reception, 6:30–7:30pm
Hosted by Derrick Adams and DJ April Hunt
with Elizabeth Koke and T De Long
and Artist Committee: Ron Athey, Isis Awad, KJ Freeman, Laura Parnes, Pamela Sneed, Keioui Keijaun Thomas
Artist-Choice Performances, 7:30–9:30pm
Hosted by Narcissister and CHRISTEENE
Presidential Video Address, Vaginal Davis
Narcissister, invited by CHRISTEENE
Laura Ortman, invited by Jeffrey Gibson
M Lamar, invited by Baseera Khan
Lambert, invited by ANOHNI, introduced by Jimmy Paul
Video Interlude, Kembra Pfahler and Isaiah Davis
CHRISTEENE invited by Narcissister
Jasmine Nyende, invited by Julie Tolentino
Jonah Mutono, invited by Serubiri Moses and Raymond Pinto
plus very special guests
Astrological Forecast Video, Constantina Zavitsanos and Tourmaline
Limited Edition Lazarus Tarot by Michael Lazarus
Printing by PUBLICIDE
Lite Fare by Makina
Technical Director, Abby Noble
Photography, Woodson Legrand
Flowers, Jay Kinney Join us as we celebrate 20 years of PARTICIPANT and new beginnings with a night of artist-choice performances at Legendary S.O.B.'s.
PARTICIPANT relocated to 116 Elizabeth Street to begin a multi-year project aimed at strengthening our program, expanding our mission, and envisioning a sustainable future in support of the transformative cultural work by and for the artists and communities of Downtown New York City. This event will launch this pivotal phase, offering artists, collaborators, and our communities invaluable opportunities to learn, unlearn, and collectively shape PARTICIPANT's horizon.
Learn more about the next chapter of PARTICIPANT. FUTURE FUND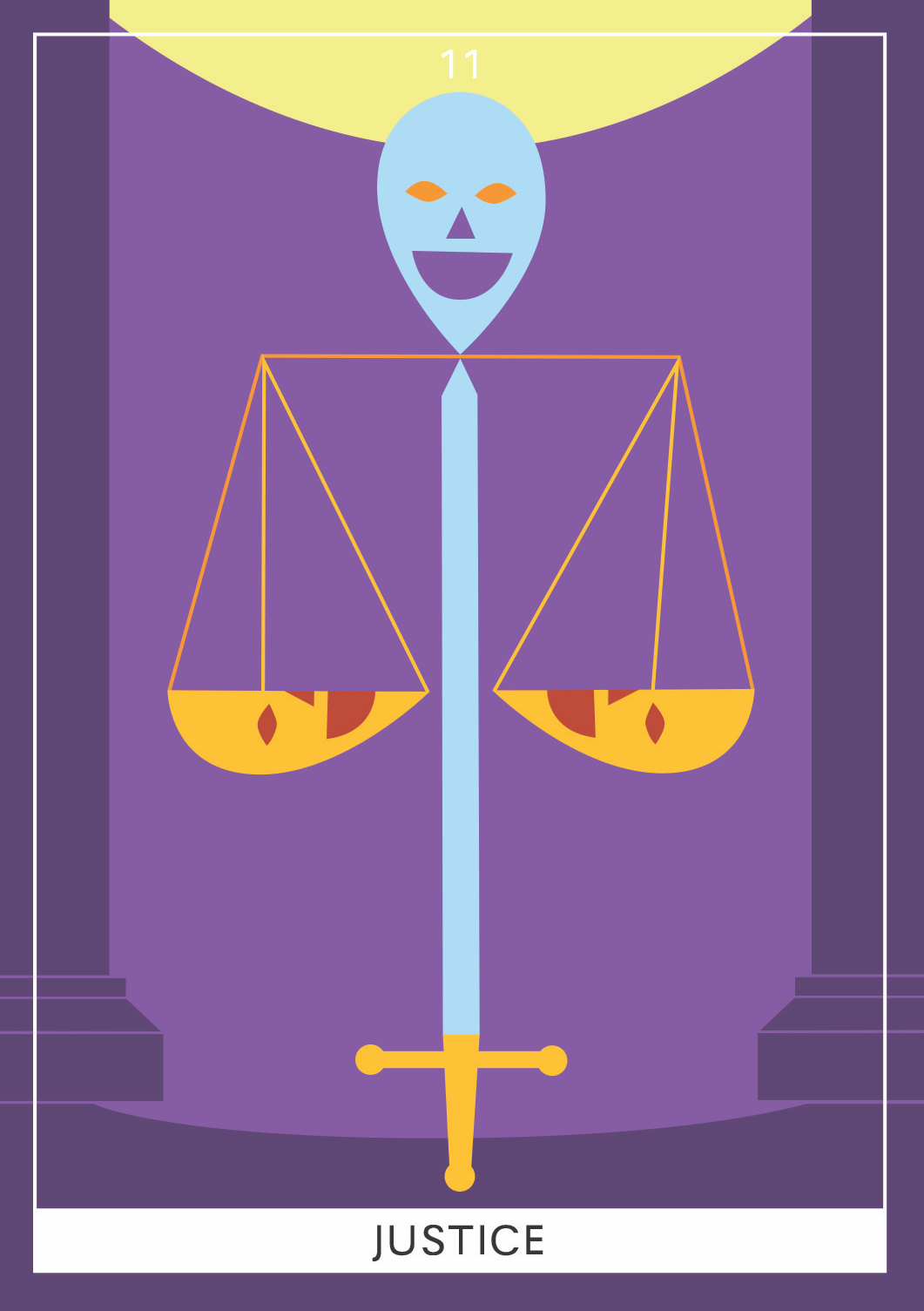 Michael Lazarus, "Justice," 2022 from

Lazarus Tarot,

boxed set of 78 cards, edition of 400